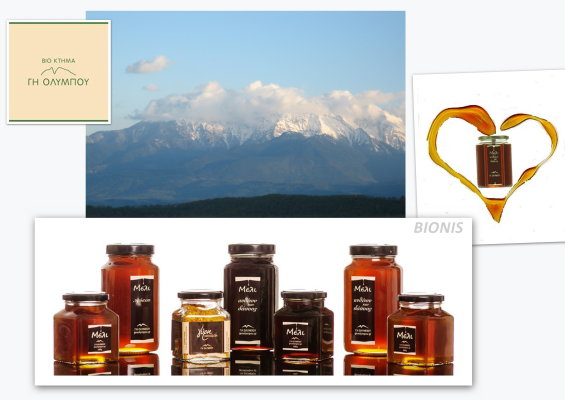 Gea Olymp
Gea Olympou – (translated: Earth or Land of Olympus)
One place, one mountain, one name and pure passion!
Dimitris and his small family business are located at the foot of Mount Olympus in the town of Litochoro (Pieria Prefecture).
With his family he mainly grows walnuts and almonds, which are grown sustainably to protect the environment and make better use of the available natural and human resources. With care and care, the yard is expanded with various fruit trees and aromatic plants.
However, his heart beats with a unique passion, especially for his little buzzing helpers. With the principles of good beekeeping, combined with migratory bee colonies and traditional production methods, he collects and produces the honey of Olympus in a natural and effortless way.
The result of his passion are fresh, tasty, authentic and high quality products, grown, collected and produced with respect for nature and people.
Dimitri strives to respect biodiversity, protect natural resources, earn consumer trust and promote Greek landscape products.
With the love and dedication of the whole family, high-quality products with a real Mediterranean taste are made here.
Additional Information:
1. Greek honey is world class: https://www.griechenland.net/nachrichten/kultur/23138-greek-honey-is-considered-the-best-in-the-world?highlight=WyJkZXIiLCJiZXN0ZSIsImhvbmlnIiwiZGVyIGJlc3RlIl0=
2. The bee in antiquity: https://www.griechenland.net/nachrichten/chronik/23803-die-biene-im-altertum?highlight=WyJob25pZyJd
---
---
---